American Express Serve Review–Good Features but Limited Acceptance
The American Express Serve card can be used inexpensively and has some great features. But it's still not accepted at as many retailers as Visa and Mastercard. Here's a detailed look.
American Express Serve Overview
The American Express Serve prepaid card has some good things going for it, but not as good as they used to be. For years after American Express launched the Serve card, the monthly fee was among the cheapest out there. It charged just a buck, and that fee was waived when you used direct deposit to load just $500 during the month.
But in 2019, AMEX upped the monthly fee to $6.95–higher than many prepaid cards. Luckily, it still offers the same opportunity to waive the fee when using direct deposit.
Even with the increased monthly fee, the AMEX Serve still offers solid features. The Serve card has free online bill pay. They'll even send a paper check if your vendor requires it. The Serve card also comes with a free ATM network. And it has subaccounts. It's a way to set up other family members with their own cards linked to your primary Serve account.
Second, you can choose from three different versions of the Serve card to best meet your needs. Alongside the basic Serve card, American Express also offers Serve FREE Reloads and Serve Cash Back. While most features among the Serve cards are the same, the fees differ. (But they all went up in 2019).
The FREE Reloads version of the card, as the name suggests, offers free cash reloads at over 45,000 retail locations, like CVS, Walmart, Rite Aid, and 7-11. But Serve FREE Reloads charges a $6.95 non-waivable monthly fee.
The Serve Cash Back card offers an unlimited 1% cash back on purchases. It charges a $7.95 monthly fee. Also, non-waivable.
The American Express Serve cards all share one downside. Acceptance.
Nearly 2 million, or 17%, fewer retail locations accept American Express cards compared to Visa or Mastercard. Let's put that in perspective. If you go to 10 stores, you'll run into two that won't take your American Express card.
So, if you're using a prepaid card along with a credit card or bank debit card, then American Express may Serve you well. (Pun intended.)
But if you're looking for a prepaid card to replace your checking account, you should stick with one of the better Mastercard or Visa cards.
Key Features of the Serve Card
You can use the American Express Serve card for purchases at any store that takes American Express. And it has all the basic features you would expect, like free direct deposit. All versions of the Serve card also include the following:
Serve Mobile App: You can manage many account functions through the Serve app. It's available for both iPhone and Android devices. You can use the app to check the balance of your card, see recent transactions, and load checks to your card. You can also find locations to load cash and ATMs in the MoneyPass Network.
Free ATM Network: If you still tend to use cash, the Serve card's free ATM network will be a significant benefit. Serve uses the MoneyPass network–with over 32,000 locations.
Subaccounts: The Serve card offers up to 4 free subaccounts with your card. Subaccounts are a way to separate money from the primary account. You can use subaccounts for budgeting purposes. For example, you  can set a monthly amount for groceries or entertainment. Or you can use subaccounts to provide family members with their own card.
Reserve Account: You can set up a reserve account with your Serve card. It's like a savings vault. It doesn't pay interest like some cards, but it's a handy way to set a short-term savings target, like a vacation fund.
Transfers between Serve Cards: You can send or receive money to or from any other Serve account at no charge.
Serve Card Limits
The American Express Serve card allows a card balance limit up to $100,000. Not a misprint. It's far and away the highest balance limit on prepaid cards.
Unlike most cards which set daily limits for spending, the Serve card sets monthly limits. The monthly spending limit is $15,000. The average daily spending limit for other cards is around $5,000.
The Serve card limits ATM withdrawals to $750, compared to an average of $500 among prepaid cards.
You can load up to $2,500 cash on the card in a day.
Fees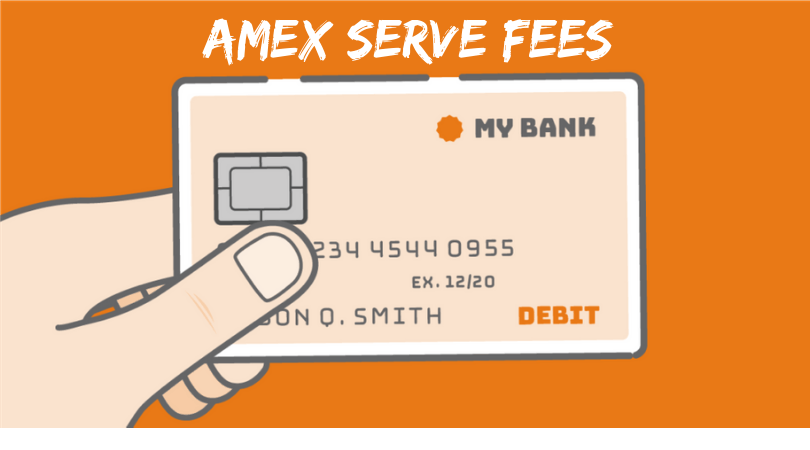 While the once lower fees made the American Express Serve card more competitive compared to more widely-accepted Visa and Mastercard alternatives, the increase in the monthly fees have made it less so.
Basic Serve Card
The monthly fee for the basic Serve card is $6.95. Still, with direct deposit of $500 or more per month, the monthly fee is $0. That puts a no-monthly fee card in reach of most people considering a prepaid card.
ATM transactions are also free when using the MoneyPass network. That's becoming more rare in the world of prepaid. Withdrawals at non-MoneyPass ATMs cost $2.50 plus the fee charged by the ATM owner.
The Free Reload and Cash Back Serve Cards
The primary difference between the basic serve card and the free reload and cash back versions is the cost.
Both the Free Reload Serve and the Cash Back Serve cards charge non-waivable monthly fees. So, for most, they're likely to be higher than the basic Serve card. The Free Reload card charges $6.95; the Cash Back card charges a higher $7.95. Neither can be waived.
Whether to choose the basic Serve card or the Free Reload or Cash Back versions depends on how you'll use the card. If you don't plan on using direct deposit and you'll load cash, the Free Reload version is your best pick. The monthly fee is the same, but you'll save $7.90 in cash reload fees.
The Cash Back card may also make sense if you don't use direct deposit. If you do, you'd have to spend more than $795 on the card each month to make up the monthly fee difference. The Cash Back card offers 1% cash back, so $795 will earn $7.95 back–the difference between the monthly fee of the basic and Cash Back Serve cards.
How to Add Money to the Serve Card
There are several ways to add money to the American Express Serve Card.
Direct Deposit: You can set up direct deposit for paychecks or many government benefits checks without a fee.
Mobile Check Deposit: You can deposit checks using the Serve mobile app for free. Check deposits are processed through Ingo Money and take 10 days if using the free option. Check deposits can be available the same day if you choose to expedite the deposit, but Ingo Money will charge a fee of 2% to 5% of the check's value, depending on the type of check.
Online Bank Transfer: If you have a bank account, you can transfer funds to the Serve card online for free.
Cash Reloads: You can load the card with cash at CVS, Walmart, Dollar General, Family Dollar and most 7-11 locations. You can also load the Serve card with cash at Reloadit or Vanilla Reload locations. Cash reloads up to $500 cost $3.95 with the basic Serve card and Serve Cash Back. If you have the FREE Reloads Serve card, cash loads (other than Reloadit or Vanilla Reload) are free.
Where to Buy the Serve Card
You can buy the Serve card at retail stores, including CVS, Walmart, Rite Aid, 7-11, Dollar General, and Family Dollar. Stores charge a fee up to $3.95 to get the card.
The better option is to get the Serve card online. There's no purchase fee, and the process to buy online the same as registering the card you bought in the store.
The Bottom Line
The Serve card has most features you could want in a prepaid card, and if you used direct deposit, the basic Serve card beats out many prepaid cards on price. But without direct deposit, the American Express Serve Card just isn't as competitive anymore.
Like any American Express prepaid or credit card, its lower acceptance compared to Visa and Mastercard is also a consideration. If you're banking on using one prepaid card for all purchases, you might check Visa and Mastercard prepaid cards first. But, if you have a credit card or another debit card, the Serve card can be a good prepaid card addition to your wallet.
Best For: Prepaid card users that will use direct deposit and have a Visa/Mastercard credit card or bank debit; those that make frequent ATM withdrawals.
Not So Good For: Prepaid card users who want broader acceptance by retailers or those not using direct deposit.